Happy Father's day everyone! I hope you're having a great day. I prepared a list of some of the best movie and Tv fathers of all time. Comment me your favorites and enjoy reading!
Bob Belcher (Bob's Burgers)
Bob is easily the best fictional father out there. He loves his wife and kids, but isn't afraid to point out their flaws. He supports each of his children, whatever he gets his leg waxed with Tina, watches old movies with Gene or follows Louise's shenanigans. Plus he has the dad jokes and puns for life. All around Bob is simple guy, he loves Thanksgiving, his restaurant and his family.
Arthur Weasley (Harry Potter franchise)
J.K Rowling admitted in 2016 that she intended to kill Mr. Weasley in the last book of the series, but couldn't part with him. The fathers in Harry Potter books were either horrible, or dead so it is not surprising Rowling wanted to save the beast one fo them all.
Homer Simpson (The Simpsons)
Now, Homer is lazy, stupid and often drunk, but he is the kind of father you wish you had. Sometimes he ignores his kids and is a little bit irresponsible, but he loves his children and wife. I'm not a fan of abuse in sake of comedy and that what keeps Homer from being the best animated dad out there.
Phil Dunphy (Modern Family)
Modern Family has great fathers,Phil is the best, he is supportive, fun, and a little silly, but he never fails to support his children and provide them with a great advice. Plus he likes to dance and he is a magician!
Gru (Despicable Me)
Gru is a great example, that you don't have to be a biological father to be a good one. It took him some time, to warm up to the girls, but once he got there he became one of the best.
Marlin (Finding Nemo)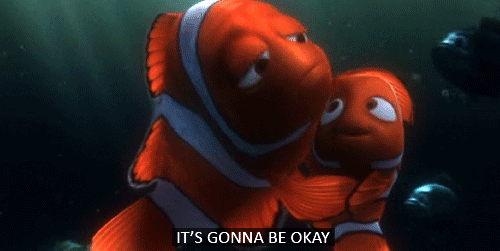 Marlin is a loving father, who is willing to do anything for his son. The greatest thing about him is that we get to see his journey and change throughout the movie. His interactions with Dory are funny and adorable.
George Banks (The Father of The Bride)
Steve Martin gives a charming performance as a father organizing perfect wedding for his only daughter. His anxiety and concern for his daughter's happiness is cute and funny. And he paid for that big, crazy expensive wedding!"
Danny Tanner (Full House)

The thing I always liked about Danny is that he listens to his children and always tries to help them with their problems. He built their self-confidence, but he also punished them when their did something wrong. When I was going through my teenage angst phase I always wished Danny would walk through my door and talk to me.
Mike Heck (The Middle)
Mike is the rock of his family, he stays calm through all the drama and craziness. He rarely gets stressed, which is funny, because his wife is the exact opposite of him. Mike loves his children, even though he sometimes can't express it.
Dr. Henry Jones (Indiana Jones and The Last Crusade)
Father of our favourite archeologist is charming and funny. Yes, he maybe isn't the best father, but he definitely is one of my favourite characters of all time.